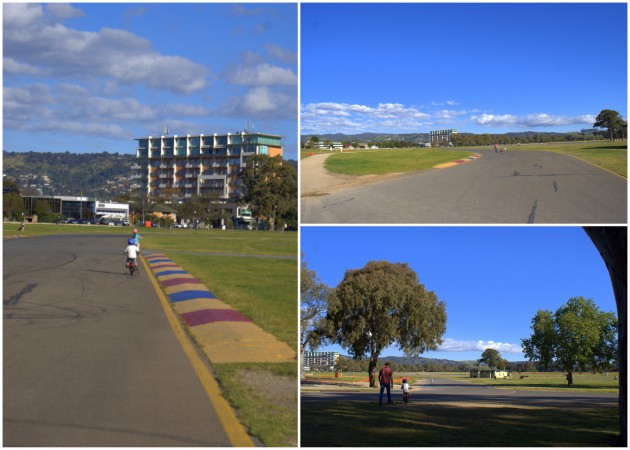 Victoria Park, (Bakkabakkandi) located in the South Eastern Parklands is bordered by Fullarton Road, Greenhill Road, East Terrace and Wakefield Road. It hosts a variety of major events throughout the year such as the Clipsal 500, Adelaide International Horse Trials and the Pedal Prix.
The park's most prominent feature is the Victoria Park Racecourse, formerly the home course of the South Australian Jockey Club; the main track was 2,360 metres long, with the longest home-straight of any horse racing track in Australia.
The old Racecourse also happens to be an excellent place for kids to learn how to ride a bike. The huge slab of concrete in the middle provides a smooth, flat, uninterrupted surface, free of obstacles – perfect for little bike riders.
This is where my 4 year old son farewelled his training wheels recently and joined the 2 wheels club.
As you can see it was a great success. A little push to start with and then he was on his own. He has spent a great amount of time previous to this, balancing well on a wooden balance bike, so was ready to take this step.
This smooth surface and wide open space is a perfect place to play with many different types of wheels and toys. We have also rode scooters here as well as our rolling coaster ride on car. Kids can rollerblade and skateboard too.
It's a great place to fly kites, model aeroplanes and helicopters, or play with remote control cars and trucks.
The park is also popular with people using the exercise trail, walking their dogs and running.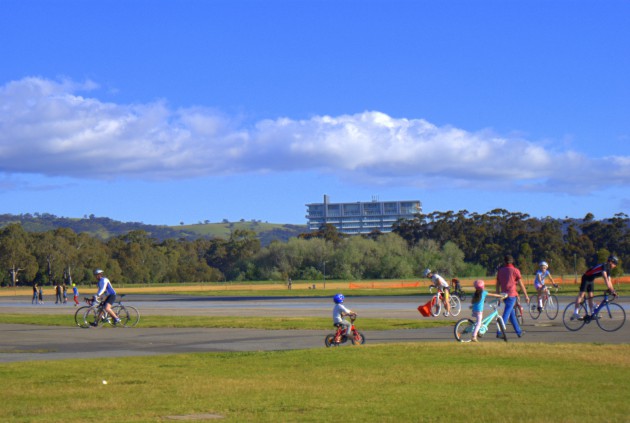 Near East Terrace there is a picnic area with bbq facilities.
Once your kids are confident bike riders you could cross over Wakefield Road and follow the paths over to Rymill Park Boat Shed and Kiosk or playground.
Please note that from around January to early May the site is scattered with temporary infrastructure associated with the Clipsal 500 and during other events this area is not available to be used.
What: Victoria Park Racecourse
When: Whenever the park is not holding an event
Where: South Eastern Parklands bordered by Fullarton Road, Greenhill Road, East Terrace and Wakefield Road, Adelaide | Closest parking for Racecourse is on Fullarton Rd or Wakefield Rd
Who: Everyone