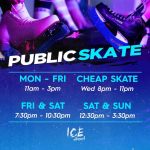 [ November 25, 2023 to December 2, 2023. ]
Free Public Skate Sessions at the IceArena for 1 week only.
The IceArena in Thebarton has re-opened under new management and new operator, Richard Laidlaw, has announced that all public skate sessions from Saturday 25 November until and including Saturday 2 December 2023 are FREE ENTRY.
The IceArena is South Australia's premier ice sports and recreational ice […]