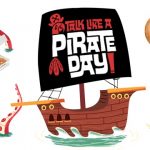 [ September 19, 2017; 10:00 am to 8:00 pm. ]
Talk Like a Pirate Day at Krispy Kreme!
Tuesday 19 of September 2017 is Talk Like a Pirate Day and Krispy Kreme is offering free doughnuts!
Go into Krispy Kreme on this date and either talk or dress like a pirate to collect ye bounty of FREE delicious doughnuts, arrrrgh!
If you talk like a pirate you'll […]