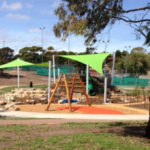 [ December 16, 2019; ]
Shamrock Road Reserve Playground Upgrade Official Opening
Everyone is invited to celebrate the official opening of the upgraded Shamrock Road Playground, Hallett Cove at 11am on Monday 16 December.
Take along the kids and test out the new playground and facilities. This community event will also include a free BBQ, nature play activities and come-and-try activities.
New features […]