It's the same idea as a 'Frog in a Pond jelly' (Freddo Frog in jelly) but this is a Christmas version Miss 9 created.
What You Need
These ingredients made 13 serves.
13 x Plastic Wine Goblets or other plastic cups (we used 170ml cups)
2 Packets Red Jelly – we used Aeroplane Raspberry flavour
2 Packets Green Jelly – we used Aeroplane Lime flavour
4 heaped teaspoons Gelatine – ie 1 heaped teaspoon per packet of Jelly (or if using sachets, use 1 sachet per packet of Jelly)
Hot water and cold water as per Jelly instructions
13 x Cadbury's Magical Elves Chocolates (these are the ones with Popping Candy in them)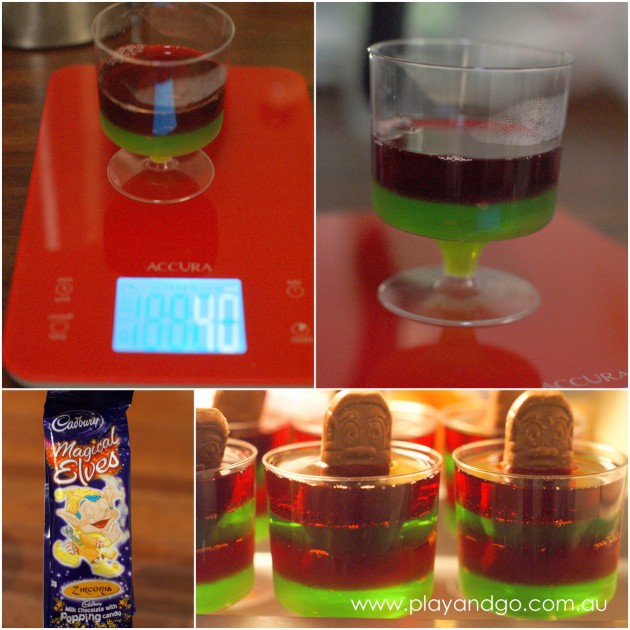 Instructions
1. Make up 1 packet of the green jelly but sprinkle in 1 heaped teaspoon of the gelatine to the jelly powder and mix it together before adding the hot water. Make up the jelly according to instructions on the packet but instead of making up to 500ml, top up the water to 520ml so that you get 13 equal serves.
2. Pour 40ml of the green jelly into each cup. We used a digital scale to measure 40ml, by putting each cup on the scales and then pouring to 40ml.
3. Put the jellies into the freezer to set. It will take approximately 15 minutes (this will vary depending on your freezer).
4. While the green jelly is in the freezer setting, make up the red jelly in the same way. In fact if you have enough jugs/bowls you can make up the rest of the jellies while you are waiting for the first layer to set, if you like.
5. Once the green layer has set pour 40ml of red jelly on top in each cup. Continue doing this until you get to the last layer.
6. Before you pour the last layer of jelly, stick the Magical Elf chocolate into the 3rd layer of jelly and then pour the last layer of jelly around him. Alternatively, you can wait until that last layer is partially set and stick the Elf in then if you want more of his body sticking out of the jelly.
7. Put the jellies into the fridge until set or until you are ready to serve.