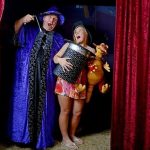 [ May 14, 2022 to May 15, 2022. May 21, 2022 to May 22, 2022. ]
Falling Bombs and Floating Cards
Would you like to see a magic show?
Join the oldest magic club in Australia in their underground club rooms for some history, nostalgia and a live magic performance suitable for families of all ages. This is a rare opportunity to look behind the scenes of this most secretive of performing arts.
Go […]