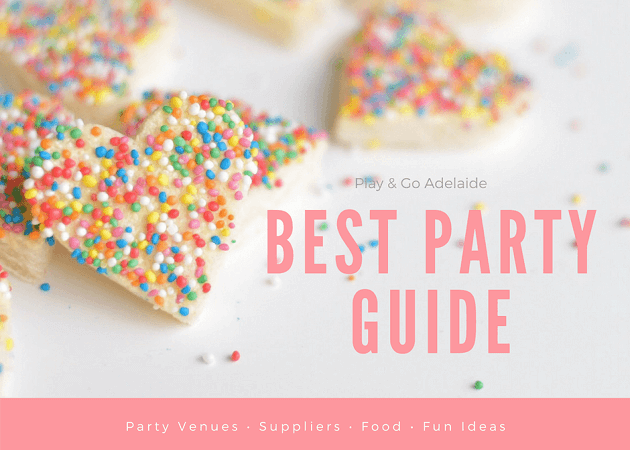 Birthday Party Ideas for Adelaide Kids
At Play & Go we love birthday parties, but we know how much work it can be for busy parents to research and organise a great party. To help you plan your child's birthday party we've put together some of the best party venues and party suppliers in Adelaide. We also share some of our favourite party food ideas and birthday cakes that have been popular with our kids. They'll have "the BEST party ever"!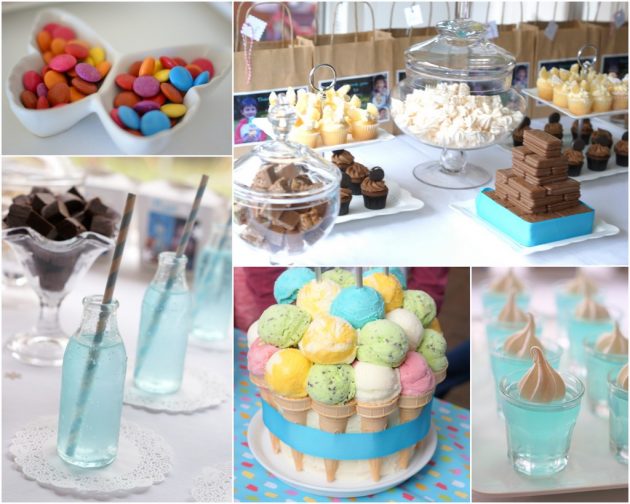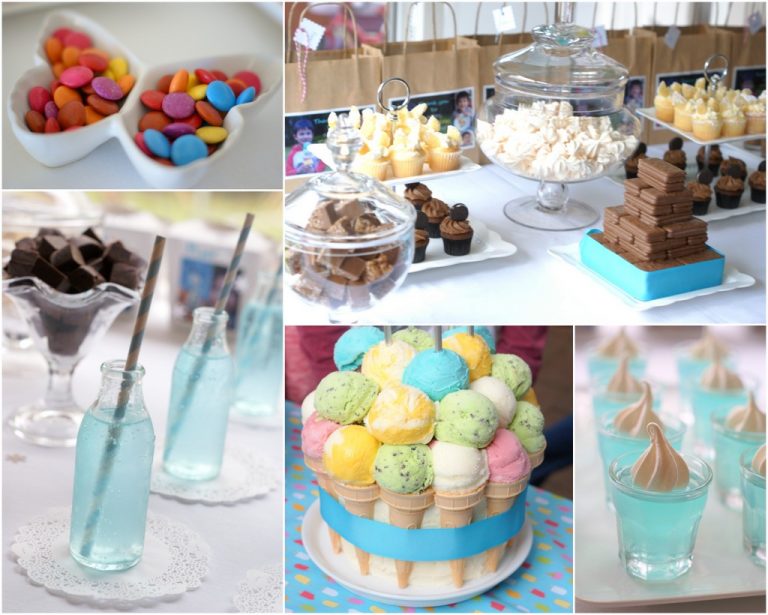 Just click on these categories here or scroll down to read our full Guide below.



Kids' Birthday Party Venues Adelaide
Planning your child's birthday party and wondering where to look for the best party venues in Adelaide?
Check out these great options below.
Adelaide Zoo | Party Animals Birthday Parties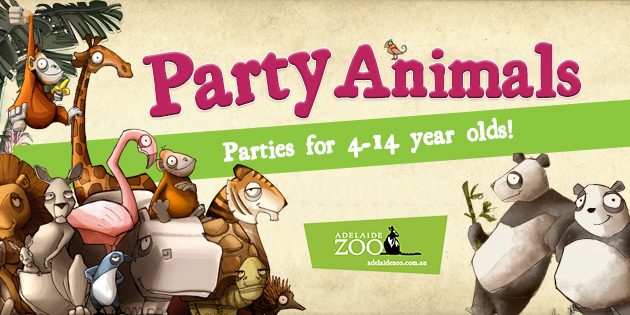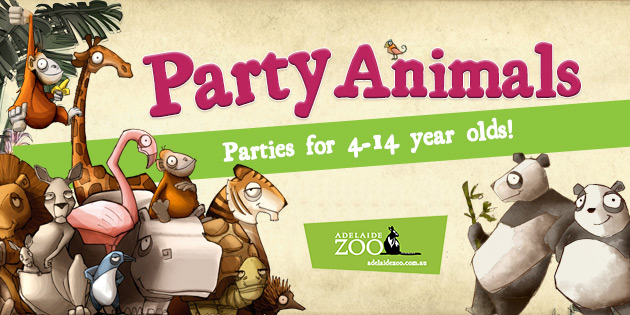 Is your kid a party animal?
If they're aged between 4 – 14 years, Adelaide Zoo offers two great packages to ensure they have a wild time on their special day. Or for large celebrations, book one of their unique function spaces.
Package 1. Panda Packs – $29.95 per child (4-14yrs): You will receive a zoo activity pack including a map, an orienteering trail, a colouring page and sticker for each child. Your activity pack will help you familiarise yourselves with the zoo and ensure you can find the perfect picnic spot to enjoy your panda pack lunches. Includes an invitation template and all day entry to the zoo on the day!
Package 2. Party Animals – $39.95 per child (4-14 yrs): Let them take the hard work out of organizing your little monkey's birthday celebration with their Party Animals package. Includes Invitation template; Party host for 1.5 hrs; Zoo Gift Bag for each child; Decorated party table in their new Nature's Playground venue; Welcome sign and Plush toy for the birthday child. Includes lunch and all day entry to the zoo on the day!
Adelaide Zoo | Frome Road | Adelaide, SA 5000 Australia | phone 8267 3255

Bloom Flower Crowns

Bloom Flower Crowns Workshop Parties
Make beautiful flower crowns at your next party. Your friendly party host will come to your home, supply and set up all the materials and help your guests create their own unique flower crowns to take home.  Afterwards guests can choose from a glitter tattoo or coloured hair spray for some extra fun. Guests spend 1 hour being creative with their party host, then there's plenty of time for party food and the Birthday cake! Easy, no fuss and everyone will have a ball! Pack up included in cost.
 What's included?
Up to 20 guests included in the price (can add more if you wish)
Special Bloom Flower Crowns Invitations for you to give to your guests
A Bloom Flower Crowns gift voucher for the Birthday Girl valued at $50
Optional extras for an additional charge
'Photo booth' type props for some fun photos with your friends. (Actual photo booth not included, a plain backdrop/wall works well), $10
A lucky dip for each guest, $2 per guest
Unicorn horns, $1 per guest
2 trestle tables and 8 white stools available for hire for $20
bell tent hire coming soon
Cost: Set cost of $300 for 20 participants. Additional participants $20 each.

Cirkidz
Be the star of your own party!
Cirkidz easy, no fuss birthday parties are held on Sundays at their fully equipped circus centre at Bowden. Friendly party hosts will guide you through a wonderful and unique party experience like no other. Your friends and family will participate in an engaging circus session while non-participants can watch the action from the viewing area and set up treats in the party room. No experience is necessary and you will be surprised and delighted by the variety of activities including Trapeze, silks, hula, trampoline, juggling, spinning plates, poi, tight wire, diabolo, rolla-bolla, acrobatics, balancing + more! For ages 5+ (including adults!).
What's included?
90 minute circus workshop followed by use of the party room to serve snacks and cake, open presents and sing happy birthday (30 minutes)
Up to 20 participants included in the price  (they can cater for more, just ask!)
Invitations for you to give to your guests
Two fun and friendly birthday hosts that will teach you real take-home skills.
A free come and try voucher for all guests to weekly circus classes.
Bring a few platters of sandwiches, fresh fruit or cakes, let the kids spend 90 minutes being active with their party hosts, then spend 30 minutes enjoying treats, and you're done! Easy, no fuss and you don't have to worry about cleaning your house, entertaining the kids yourself or tidying up afterwards!
Cost: Set cost of $399 for 20 participants.
Cirkidz | 27 Fifth St, Bowden | Phone 8346 5735

The Fairies Klemzig Birthday Parties
 
Fairy princess parties, high tea, pamper parties or disco fever… The Fairies offer a range of spectacularly styled, fun-filled birthday celebrations for your child.
The Fairies Birthday Parties are so magical, so much fun … they're just fan-fairy-tastic.  With Rainbow the Birthday Fairy as your special host, your child's birthday party will be one they will remember forever and ever!
Their disco parties are for children who prefer to dance and jive the party away to the latest music.  They put the "Fun into Funky" with Disco Diva parties full of top 40 hit music, awesome singing and dancing and no restrictions on noise!
No detail is overlooked, from the themed party room, styled food table and quality party bags.  Food platters for parents are also available.
Fuss free…let them do the work for you.
The Fairies Klemzig | 290 North East Road, Klemzig | Phone 8369 3330

Flip Out Munno Para

Throw a Trampoline Party!
If you're looking for kids birthday party ideas,  Flip Out can help you celebrate Flip Out style.
A FLIP OUT PARTY IS A PARTY LIKE NO OTHER!
Flip Out's kids Trampoline Parties are perfect for birthdays. Let the kids jump away some energy before celebrating in one of Flip Out's dedicated party rooms.
Make sure their birthday is one they'll never flipping forget!
Flip Out | Tenancy 9, 600 Main North Rd,  Munno Para Shopping City | Phone: (08) 8254 3700

Four Oaks Farm – Home of Ponies Love Parties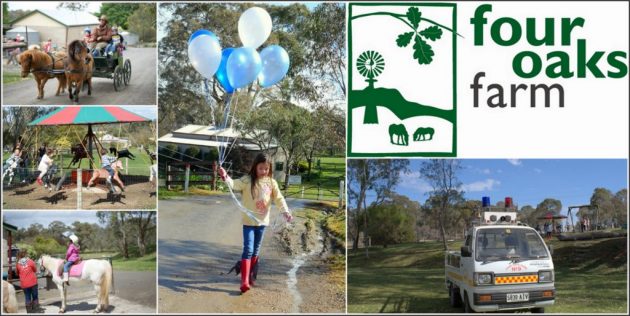 Are you looking for a party with a difference? Four Oaks Farm is a beautiful property and a fantastic place for a very memorable birthday party.
Your guests can enjoy pony rides, pony carriage rides, merry-go-rounds, fire-engine rides and they can hand-feed the friendly animals.
The ponies, the facilities, and the staff are fabulous and will ensure your party guests have a wonderful time, leaving you to relax and unwind and enjoy the party and the beautiful surroundings. The Barn has full kitchen facilities with air-con or a wood-fire depending on the season, and is beautifully decorated for birthdays.
Four Oaks Farm have different birthday party packages to suit, and they can even help you organise a pony party at your home.
Four Oaks Farm | Downing Road, Littlehampton  | Phone 8388 6361

Hahndorf Farm Barn
Party amongst their friendly farm animals, or have the animals come to you!
Spend quality time out and about on a country farm creating lasting memories! Children of all ages just love having birthday parties at the Hahndorf Farm Barn surrounded by their favourite cute and cuddly animals.
Kids can have fun bottle feeding baby animals, cuddling cute bunnies and guinea pigs, visiting the wildlife park, watching the farm show, and having pony rides. Or play in their brand new playground and sandpit.
You can choose a personally hosted party or you can self-cater – or they can even bring the party to your place.
2282 Mount Barker Road, Hahndorf

Imagination Kidz Birthday Parties

The kids will have a blast while parents sit back and relax at Imagination Kidz!
Imagination Kidz is a large indoor play centre and cafe located on Richmond Road, Marleston. Their hugely popular birthday parties are great value for money and take the headache out of doing your own. Kids can enjoy the 3 lane wave slide, giant climbing spider web, mini soccer/basketball court, air cannons and much more. There is even a role-play area and dedicated toddler soft play for the younger children.
Party Packages include:
Imagination Kidz party invitations for each child
Admission to centre for each child
Unlimited play time in the centre
Private party room for 1.5 hours
Reserved adult seating
Three choices from the food menu
Potato chips
Cordial/juice for duration of party
Private birthday bookings are also available after hours where you can enjoy the entire facility all to yourselves. Open 7 days.
Imagination Kidz |  5/264 Richmond Rd, Marleston | Phone 8352 5451

Ingle Farm Recreation Centre Birthday Parties
Have your child's birthday party at the Ingle Farm Recreation Centre!
The Ingle Farm Recreation Centre offers a range of birthday party options for you to choose from to keep the kids happy, active and entertained. The children will have a great time at Ingle Farm Recreation Centre. They can chose one of the following options:
Roller-Skating Party (Suitable for children 5-16 years old)
Kindigym Party (Suitable for children 1-5 years old)
Sports Party (Suitable for children 5-12 years old)
Visit the website for more details on a great range of inclusions for each party type.
Ingle Farm Recreation Centre | Cnr Beovich Road & Roopena Street, Ingle Farm | Phone 8406 8585

Kid & Hub

Movers & Makers Birthday Parties are unique, fun and creative! No mess at your place. 
Give your child a truly bespoke birthday experience by booking one of Kid & Hub's Movers & Makers birthday parties. Your child and guests will have an exclusively facilitated Movers & Makers session to ignite their imagination and creativity through sensory and messy play.
Including private use of the dreamscape Play Hub for your little ones and the Coffee Hub for your big guests; Kid & Hub can happily cater for your needs or you can self-cater.
Movers & Makers Birthday parties:
$499 for up to 10 children | $35 per child thereafter up to 15 children (larger numbers can be accommodated)
Saturdays | 2 – 3.30pm (1.5 hours) | Additional time – $75 per half hour, max duration 3 hours
Go to the Kid & Hub website to see what else is included in the Movers & Makers Birthday Party package.
Cupcake decorating and cooking birthday party packages also available. Drop Kid & Hub an email to enquire.
Kid & Hub | 253a Magill Road, Maylands | Email: hello@kidandhub.co.au

Latitude Adelaide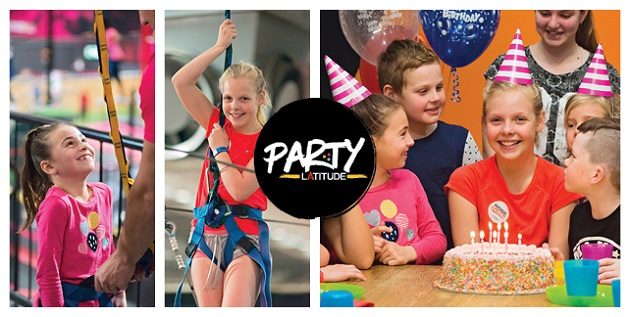 Create memories to treasure with a birthday party at Latitude.
Filled with friends and freedom, a birthday at Latitude is the ultimate party experience, jam packed with high-flying fun. Your dedicated party host will lead you on an adrenaline-fuelled climbing and bouncing adventure, and when the time comes, your party feast will be waiting for you in your very own party room.
Latitude offers:
General or Kidz Zone (Under 5's) Parties

Party invitations and Latitude grip socks for all the kids

60 minutes of activity + 40 minutes in your private party room

Four yummy party food options to choose from

VIP treatment from your dedicated party host

A complimentary session for the b'day superstar to use on their next visit.

$20 coffee tab for the super and premium package
Latitude | 13-15 Fosters Rd, Greenacres | Phone: 1300 123 528

Little Picassos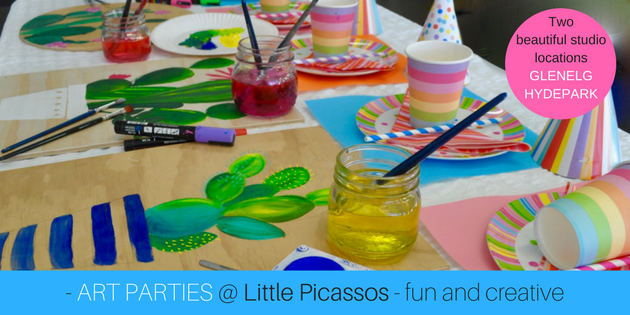 Art Parties
Little Picassos host the most wonderful creative ART parties for children.  Enjoy a creative 2-hour art session, plus time to celebrate with food, drinks and Birthday Cake.
A Little Picassos ART party includes personalised colour invitations, set party table, exclusive use of the air conditioned / heated ART STUDIO, all materials including quality canvas, smocks, resources, motivation and fully qualified and trained art teachers to host your party.
You can take along your own food or they can organise to cater for you.
Parties are designed individually according to the child's age and interests, from 2 years of age to 16. This makes each party unique and special so that you and your child will remember it for a long time.
Little Picassos:  686 Anzac Hwy, Glenelg | Rear of 330 Unley Road, Hyde Park

Mega Adventure
 
Celebrate your birthday with Mega Adventure and have an adventure in the sky!
Whether you're planning it for your kids or you're secretly a kid at heart, Mega Adventure birthday parties can be tailored to suit all ages. The best part? Each guest will receive a MEGA gift bag on arrival! After your climb, just because your adventure is over doesn't mean the fun has to stop – request to reserve a picnic bench and continue the fun on the ground. To remember your special day your group will receive a 6X8″ group photo to keep!
Are you ready to go and play? Give them a call or jump on the website once your group of 10+ is ready to play.
Let Mega Adventure know if you would like to include a cake, catering or beverage package!
Mega Adventure | 4 Hamra Avenue, West Beach | Phone 1300 63 269

Scoffed School of Food and Fun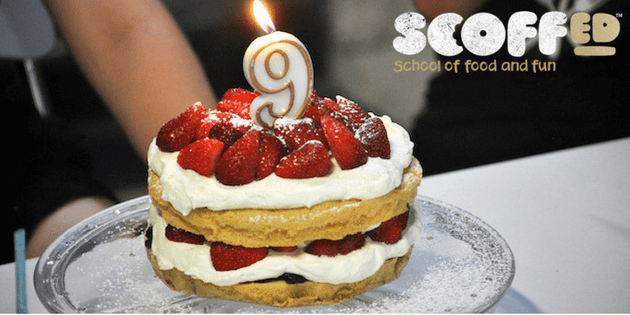 Leave the sticky fingers and messy bench tops to them and relax in their cosy cafe while the kids get stuck into the fun of decorating their freshly baked birthday cake.
Their entertaining kids' birthday parties are tailored to the age of your child and any dietary requirements. They even create the invitation for you!
Over two hours, and between giggling fits, your child and their friends will create a savoury dish of delight and a yummy drink to share as well as whipping up and baking their own cake.

South Australian Maritime Museum Birthday Parties
Ahoy! It's Pirate Party Time!
Celebrate your birthday with a pirate themed extravaganza! Board your ship, the life-size ketch Active II and set sail in the comfort of the Maritime Museum. Pin the Parrot on the Pirate, throw the quoits at the Hook Toss, play a range of pirate games and explore the Museum. 
The parties are perfect for children aged 4 to 10 and are available in black and red or black and pink pirate themes. The Maritime Museum can do as much (or as little) of the work as you like for a hassle free party.
Saturdays 2017 | Two time slots available: 10am to Noon and 1pm to 3pm.
South Australian Maritime Museum  |  126 Lipson St, Port Adelaide | Phone 8207 6255



Bop Till You Drop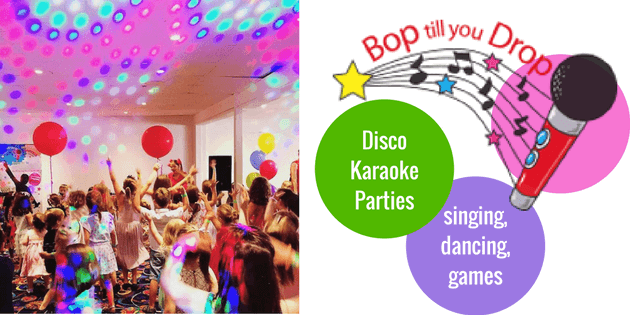 Bop Till You Drop is an award winning mobile Children's Entertainment Company providing the ultimate Disco and Karaoke Parties for Kids, catering for ages 0-16 years old for both boys and girls.
Whether it is a birthday party celebration, primary school disco, christening, fete, festival, child care centre entertainment, Holy Communion, celebration for a local club or even a corporate function, Bop Till You Drop will supply a professional entertainer, and most of all, a fun atmosphere for the kids.
What do Bop Till You Drop provide:
• Professional disco entertainer • PA System • Microphone for the children to sing on • Spectacular disco lights
What do Bop Till You Drop do:
• Conduct a structured disco and karaoke party where the children get to be POP STARS • Entertainer will teach fresh and cool dance moves • Children will sing on real microphones  • Play a variety of team building party games

Funtime Kids Parties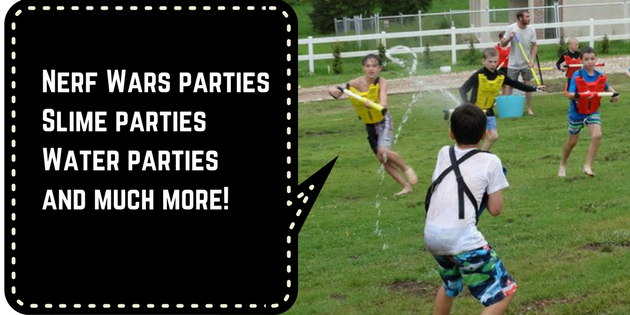 They bring the fun to you with Nerf Wars parties, Slime Parties, Water Parties and much more
Keep all your guests happy with one of their highly interactive parties. A party host will keep the kids busy and entertained and they have so many amazing party themes to choose from: discos, nerf wars, game shows, lego parties, water wars and their own unique slime party events.
Nerf Wars Parties – take Nerf to a new level! Two teams go head-to-head in a series of planned games to test their aim, their team work and their ability to plan strategy.
Star Wars Nerf Parties – includes extra themed Star Wars Nerf guns, light sabres and Star Wars Masks.
Ultimate Water Wars Parties – perfect for the hotter summer months: let kids run riot with water pistols, water bombs, slip and slides and more fun games.
Slime Party Spectacular – the ideal party for kids who love sports, competition and SLIME! If you want to see truly happy and exhilarated children, then you just can't go past a Slime Spectacular party! The kids will be talking about it for years to come!
Phone 1800 FUNTIME (1800 386 846)

Grand Bella – The Ultimate Backyard Glamping Party! By Sleepee Teepee
Grand Bella Parties – Perfect for amazing outdoor glamping sleep outs and a variety of daytime celebrations.
Grand Bella is a spacious, all weather, 5 or 6-metre canvas bell tent and she is perfect for warm weather, cool weather and everything in between! Hire Grand Bella for an epic outdoor sleepover party (sleeps up to 11 persons) or for a unique daytime celebration. With a great range of themes and furnishing packages to choose from, your celebration will be styled to perfection.
Not just for birthday parties; name your event and Sleepee Teepee will work closely with you to create a space that is perfectly styled to suit your celebration, delivering that 'wow factor' we all love to experience when it comes to parties – think bridal showers, wedding zones, and chic soirees for the grown ups. Grand Bella can be pitched in the comfort of your backyard or at your favourite park or reserve.
The best part – All Grand Bella packages include tent assembly, styling and pack down once the party is over, meaning more time for you to relax and enjoy the day!
If a glamping Sleep Out Party wasn't enough – they also have Outdoor Cinema packages too, perfect for watching your favourite flicks under the stars!

Hair by Jaz

Braid Bar
Are you looking for something different and fun for a children's party or special event?
Something to highlight a special day? Hair By Jaz can come to you at any location and set up a braiding station with hair and face glitter application.
Coloured hair extensions available at an extra cost
Set up provided and includes table, chairs, customised sign, hair supplies and glitter
Venue: Hair by Jaz is a mobile service so any location as per request

Jump First Jumping Castles Birthday Parties

Jump First Jumping Castles keep your kids happily jumping for hours – so you too can enjoy your child's party.
Jump First Jumping Castles are specialists for Jumping Castle hire in Adelaide. With over 40 jumping castle hire designs, they are sure to have a castle to suit your child's birthday party and they deliver to all Adelaide areas. They pride themselves in their service.
Jump First Jumping Castles are much more fun than "just your ordinary" bouncy castle hire company. They have Adelaide's best jumping castles for hire. Your kids will love bouncing on their bouncy castles. There are many different styles of castles and themes: Open front jumping castles; Funhouse/slide castles; Adventure castles; Water slide jumping castles.
Plus all their castles have sun-shades and wet weather covers so they can be used all year round!
Their new Mini Bounce Houses are only $180 for all day hire. Plus they have three new Funhouse Slide Combos (our favourite) with 'Let's Party', 'Princess' or 'Sports' theme, with more new castles coming soon.
So, take the stress out of your children's birthday party and book one of the best jumping castles Adelaide has to offer.
Jump First Jumping Castles  |  Call 1300 586 734 or 8376 2011

SciWorld Birthday Parties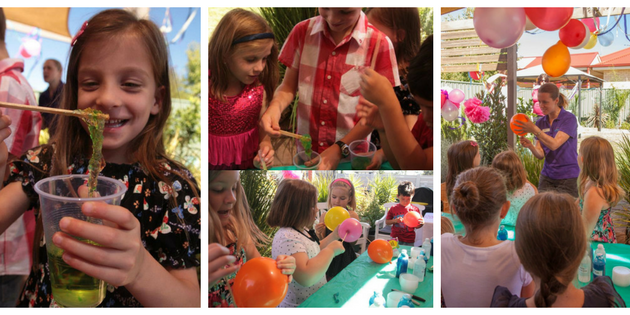 SciWorld bring all the equipment and do all the cleaning up!
Science birthday parties are great for ages 5 and up, for up to 20 children, including something to take home. They can run birthday parties in your backyard, hall or favourite park.
You'll make multi-coloured slime – all different types which you can keep! You'll shoot rockets into the sky, see some amazing science demonstrations (like Elephant's Toothpaste!) and you'll definitely see smiles all around!
SciWorld can tailor their parties to suit the age of the birthday child, adding in extra experiments and demonstrations when requested. Just ask!
SciWorld | Phone 8302 3046

Sleepee Teepee – The Ultimate Sleepover Party!

Is your child ready to host a sleepover party? Look no further than Sleepee Teepee – Adelaide's original sleepover party hire destination.
Handmade wooden teepees are paired with bedding, manchester, and styling pieces. Simply choose from their wide range of gorgeous themes to create a cosy, stylish and memorable sleepover party.
Sleepee Teepee can set up as many teepees for your child's party as you need and all in the comfort of your own home.
The best part – delivery and set-up, plus next day pack-up and collection are all included in the price, resulting in a fuss-free and high impact celebration; this means no extra work for busy parents!
Sleepee Teepee have thought of everything and created range of 'Something More' party add ons, ensuring the kids are entertained from party start to finish.
Chalkboard teepee name plaques
Lolly Buffets
Party Favour Packs
Dress Up Closets
Outdoor Cinema

 Star Academy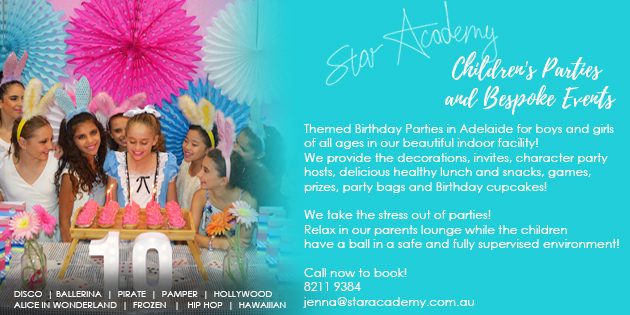 Children's Parties and Bespoke Events
Star Academy host themed birthday parties in Adelaide for boys and girls of all ages in their beautiful indoor facility. They provide  decorations, invites, character party hosts, delicious healthy lunch and snacks, games, prizes, party bags and birthday cupcakes.
Themes include: Disco | Ballerina | Pirate | Pamper | Hollywood | Alice in Wonderland | Frozen | Hip Hop | Hawaiian 
Star Academy takes the stress out of parties. Relax in the parents lounge while the children have a ball in a safe and fully supervised environment.
Star Academy | 100 Grote Street, Adelaide | Phone 8211 9384 | Email: jenna@staracademy.com.au



Birthday Party Food Ideas & Recipes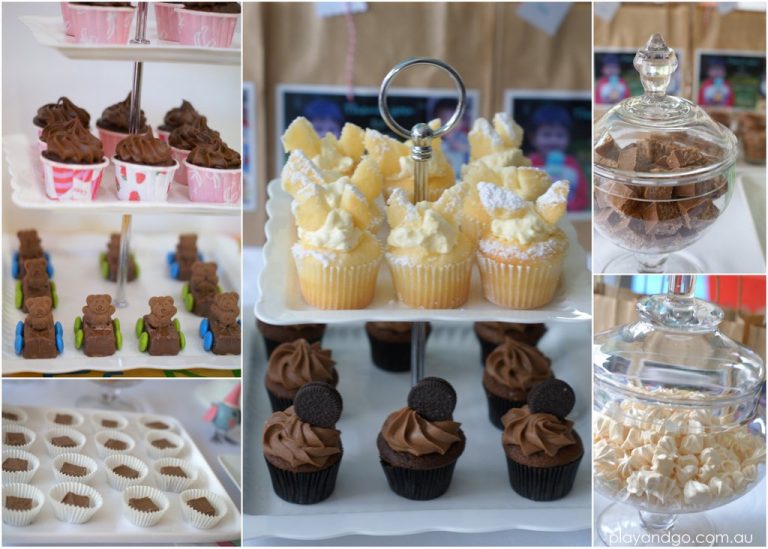 Easy to Make Shape Biscuits | An easy recipe for biscuits you can cut into any shape you like. Easy Biscuit Recipe
Mars Bar Slice | This chewy chocolate treat is always a winner. Mars Bar Slice Recipe
Teddy Bear Cars | Cute & fun – the kids can even help to make them. Teddy Bear Cars Recipe
Mini Meringues | Melt in your mouth sweet that's great on their own or use to decorate jelly or cakes. Mini Meringues Recipe
Rainbow Jelly Squares | Always has the WOW factor. Rainbow Jelly Squares Recipe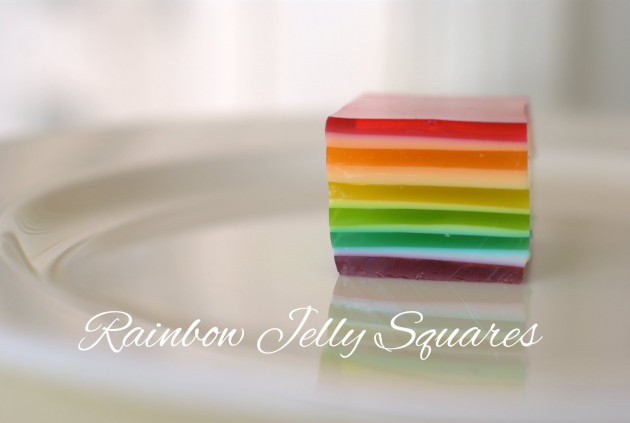 Cupcakes | We love cupcakes for parties and we've used them as the birthday cake too. Cupcake recipe ideas
Chocolate Apricot Fudge | So easy to make… and eat! Chocolate Apricot Fudge Recipe
Chocolate Brownies | A favourite! We have 2 recipes for brownies: Chocolate Brownie Recipe 1 and Chocolate Brownie Recipe 2
Kids Rocky Road | An easy version that uses only three ingredients: Kids' Rocky Road Recipe
Cinnamon Donuts | A super easy recipe that kids will love: Cinnamon Donuts Recipe



Kids' Birthday Party Cake Ideas
For chocolate lovers, this Chocolate House Birthday Cake is definitely a winner. It's like a gingerbread house, only chocolatey instead. Click here for all the details.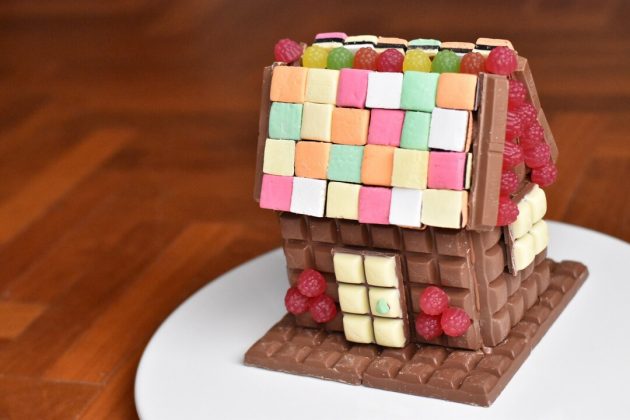 Disney Frozen Birthday Ice Cream Cake | Click here to read
Pony Party Smash Cake | Click here to read
Ice Cream Cone Cake | Click here to read
How To Train a Dragon 2 Cake | Click here to read
Where is the Green Sheep Cake | Click here to read
Mini Name Bunting Cake | Click here to read
Stiletto Cupcakes | Click here to read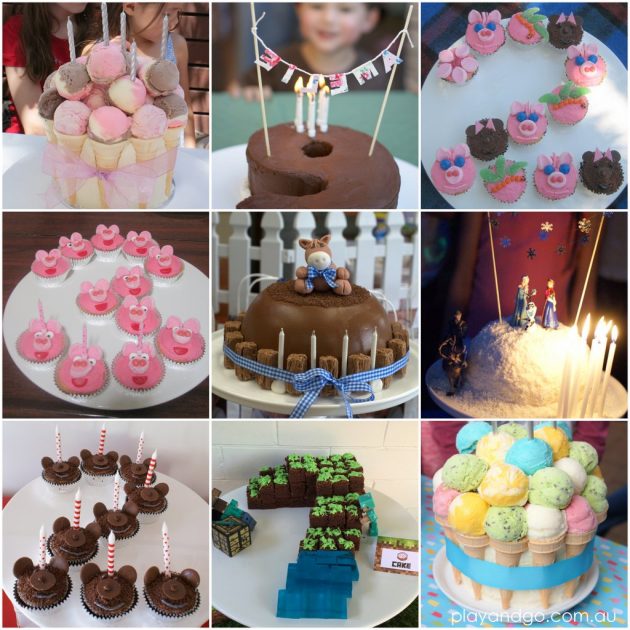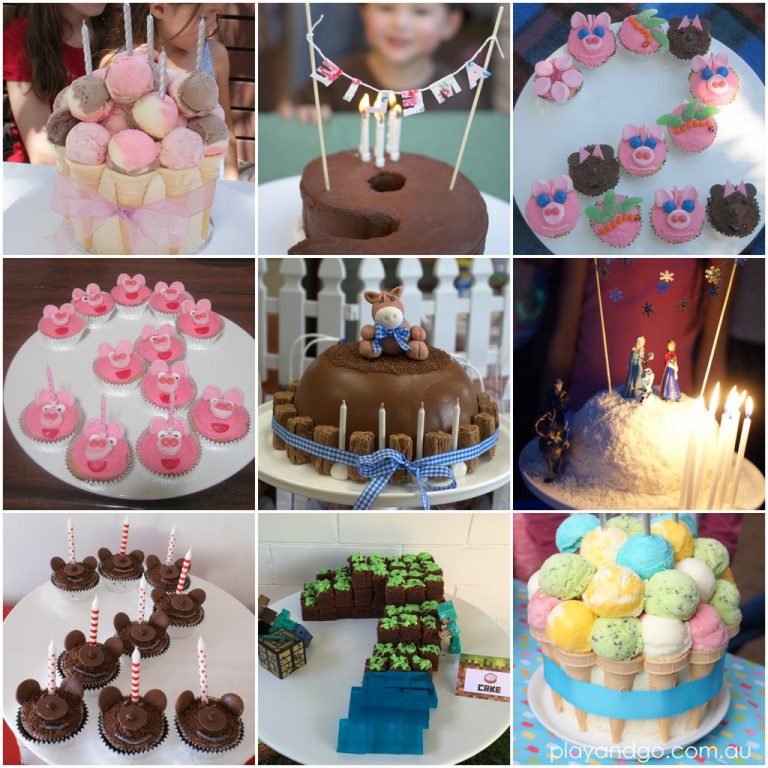 Fun Birthday Ideas
We love using simple ideas and turning them into a bit of Wow for a Birthday. ISHE & Co do exactly that with their balloon garland and personalised stamped biscuits. Find out how to make them in our post here.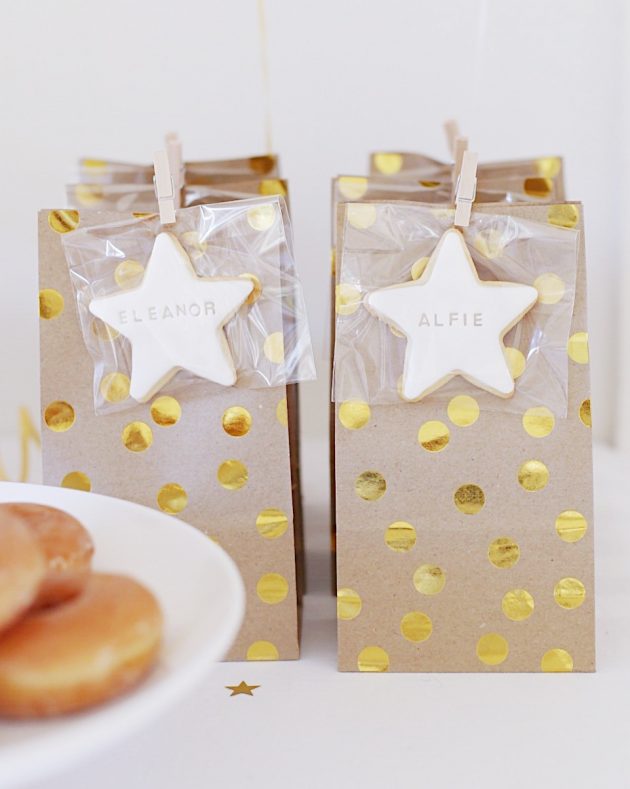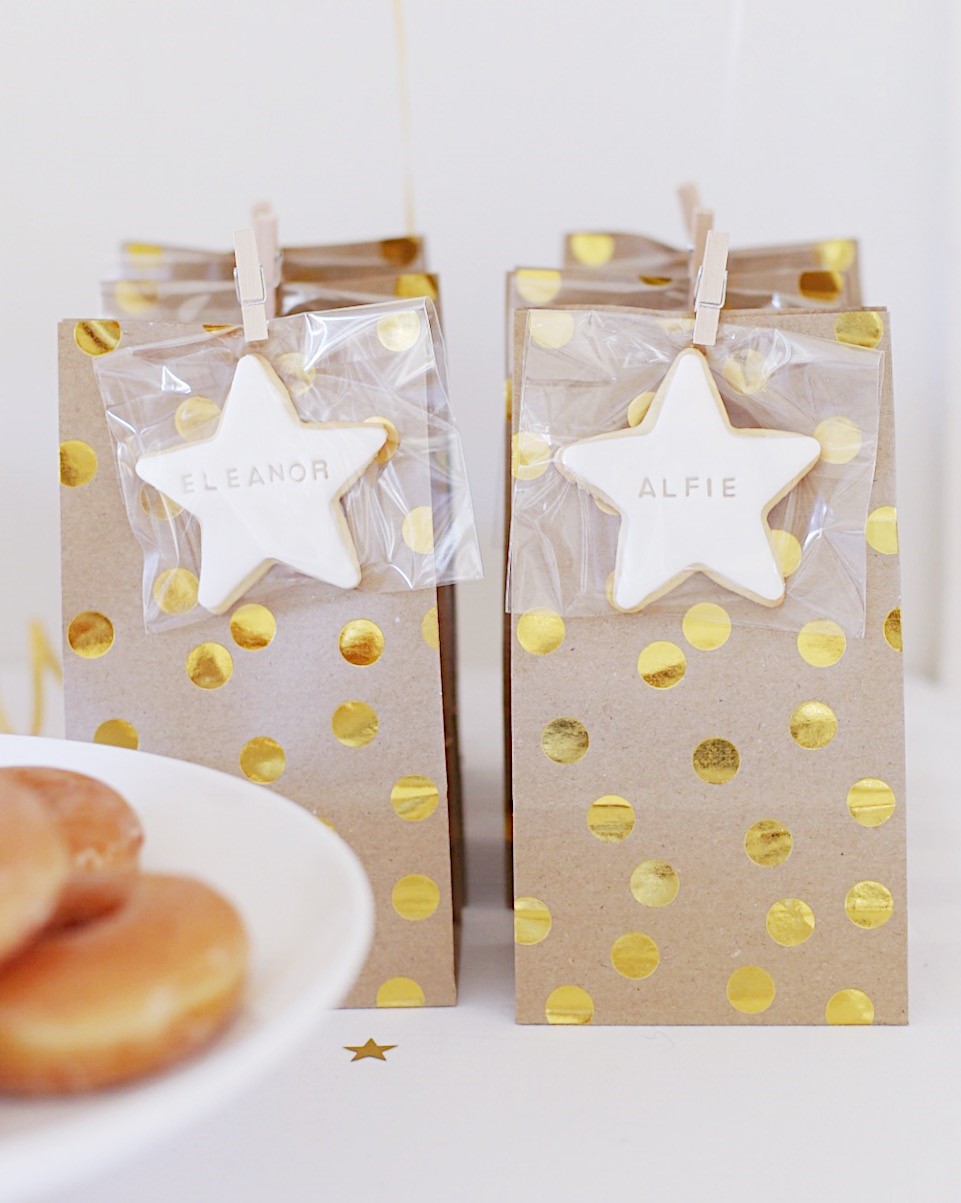 Want some ideas to make your child feel special on their birthday without spending a lot of money? Click here for some great fun ideas.

When making a booking be sure to tell them you heard about them through Play & Go!
If you would like to advertise with us, please feel free to send us an email at hello@playandgo.com.au or send a message via our contact page here.
SUBSCRIBE
Subscribe to our weekly email newsletter below to keep up to date with our latest posts and find out what's on, where to go and what to do with the kids in and around Adelaide. Newsletters are only sent once a week, and you may even get the odd 'special offer' exclusively sent to our newsletter subscribers only!
At Play & Go Adelaide we make every effort to provide accurate information to the best of our knowledge at the time of publication. We recommend confirming times, dates and details directly before making any plans as details may be subject to change.Adelaide party hire … Kids' birthday parties … Planning a party in Adelaide … Adelaide party supplies…
Save
Save
Save
Save
Save
Save
Save
Save
Save
Save
Save
Save
Save
Save
Save
Save
Save
Save
Save
Save
Save
Save
Save
Save
Save
Save
Save
Save